Our company's web designs are developed around specific digital strategies, where each page has a purpose, demands action, and produces measurable results. Designed and engineered pulp-free and to pixel perfection.
Website Design Rochester NY
There's a lot of work that goes into the perfect website design, and it goes well beyond just logos and brand colors. All aspects of the website, from the URL and indexing to the copy and visual elements, need to be carefully considered. Our Rochester, NY website design services are comprehensive—meaning we sweat absolutely every detail of your site before we begin developing it.
Rest assured, when you entrust us with your website design, we treat it as our own masterpiece. We are not satisfied with anything less than excellence, and our passion drives us to create digital content that stands the test of time. Join us on this exciting journey, and let's bring your dream website to life, one pixel at a time. 
The Visual Elements of Web Design
Your website needs curb appeal. You want visitors to be immediately impressed by the style and feel. As the highest quality web designers, we pay particular attention to all visual elements. We think about color:  your brand primaries, your secondary accents, and your CTA elements. We think about flow: your navigation, your user journeys, your funnel, and your links. We think about usability: the user experience and interface, the intuitiveness and navigability, and the load times. 
We ensure that all elements work together to create a strong, optimized experience tailored to your business and your desired results. No matter what you need your website to accomplish, our designs make sense for your specific needs.
The Unseen Elements of Web Design
Many of the critical elements of a website don't necessarily play out on screen. For example, choosing the right domain and the best hosting service for your needs are critical steps that are not always top-of-mind when beginning the design process.
The even bigger unseen element? The back end! Having a well-structured and thoughtfully curated content management system is paramount to your success. After all, websites are dynamic in nature and should be updated frequently to feature the latest news and events, new products, expanded services, and so much more. You need a CMS that is flexible enough to accommodate your content yet structured enough to make it easy to navigate and use.
Walk through some of our website design work.


Lakewood Vineyards
---
---
Lakewood Vineyards is a well-regarded Finger Lakes winery that has enjoyed continued success & expansion since its founding in 1988. Its website was dated, however, lacking sophistication and failing to engage potential visitors.
Lakewood selected a(m) to rebuild their website and reimagine their online presence. So we set out to create a site that would evoke the experience of a visit to Lakewood—informative, intimate and approachable—and thereby differentiate them from the many wineries in the region.
The result is an upscale online presentation that matches Lakewood's refined brand and extraordinary winemaking operation. Streamlined navigation highlights key information potential visitors seek, and informative pages with enticing content and appealing imagery provide a uniquely pleasing and immersive experience—similar to that of a Lakewood wine tasting.
The presentation highlights important content (such as the hundreds of awards Lakewood wines have won) by integrating it into the experience rather than relegating it to rarely-visited sub-pages. The site also features a user- and admin-friendly e-commerce platform that complies with age restrictions and tax regulations, and has facilitated $8,000+ in incremental sales in its first four months.
a(m) Services
Conversion rate optimization
Copywriting
CMS integration
Ecommerce platform
Marketing strategy
Mobile optimization
Responsive web design
Search engine optimization
Web design & development
"Accelerate Media have been great to work with over the 4+ years we have used their service. From redesigning our website to getting us going on e-commerce, they have helped us to be successful. They are very responsive and professional."




Indotronix
---
---
Before their brand redesign, the service offerings of the Indotronix Avani Group were scattered across multiple websites under various names, leaving customers to have to hunt around to figure out exactly what the group 'did'. It was our job to consolidate those service offerings through a complete brand redesign and service unification undertaking. With a new, updated logo and a completely redesigned website, we were able to take varied, detailed information about each of the companies involved and create a website that concisely and accurately detailed the expertise the Indotronix Avani Group could offer in their key service areas: staffing, consulting, and custom solution development. The updated site was designed to create a better experience for potential customers and job-seekers alike, even offering an integrated job board for internal and external positions.
a(m) Services
Conversion rate optimization
Copywriting
CMS integration
Mobile optimization
Web design & development
"Working with Accelerate Media is a pleasure. They are not simply a web design agency (although their design work is excellent), but, more importantly, they take a data-driven approach to delivering measurable outcomes. They have helped Indotronix to build a digital presence that not only looks good and functions well, but also delivers the results we need. Accelerate Media has become one of our most valued partners."



Resilite
---
---
Resilite Sports Products, Inc., has been a leading manufacturer of quality athletic mats since 1959, servicing diverse sports and sectors, including wrestling, gymnastics, cheerleading, law enforcement, combat training, martial arts, early childhood and more. The company has a solid reputation, with the products and customer service to back it up, but its online presence wasn't indicative of its past success or future endeavors.
Accelerate Media created a new website with deeper content, better usability & accessibility, improved user engagement, and increased opportunities for leads & sales. Our enhanced digital marketing strategy is driving more traffic to the site and into its funnels, while iterative site optimizations will continue to increase conversions.
a(m) Services
Conversion rate optimization
Copywriting
Custom CMS integration
Inbound marketing
Marketing strategy
Mobile optimization
Responsive web design
Search engine optimization
Web design & development
"Working with a(m) on our website has been a blast. We never stop collaborating and brainstorming on how to improve our website. From aesthetics, to functionality, to conversions – the a(m) team has been with us every step of the way to ensure we are putting the best digital product forward, not only for us, but for our visitors. "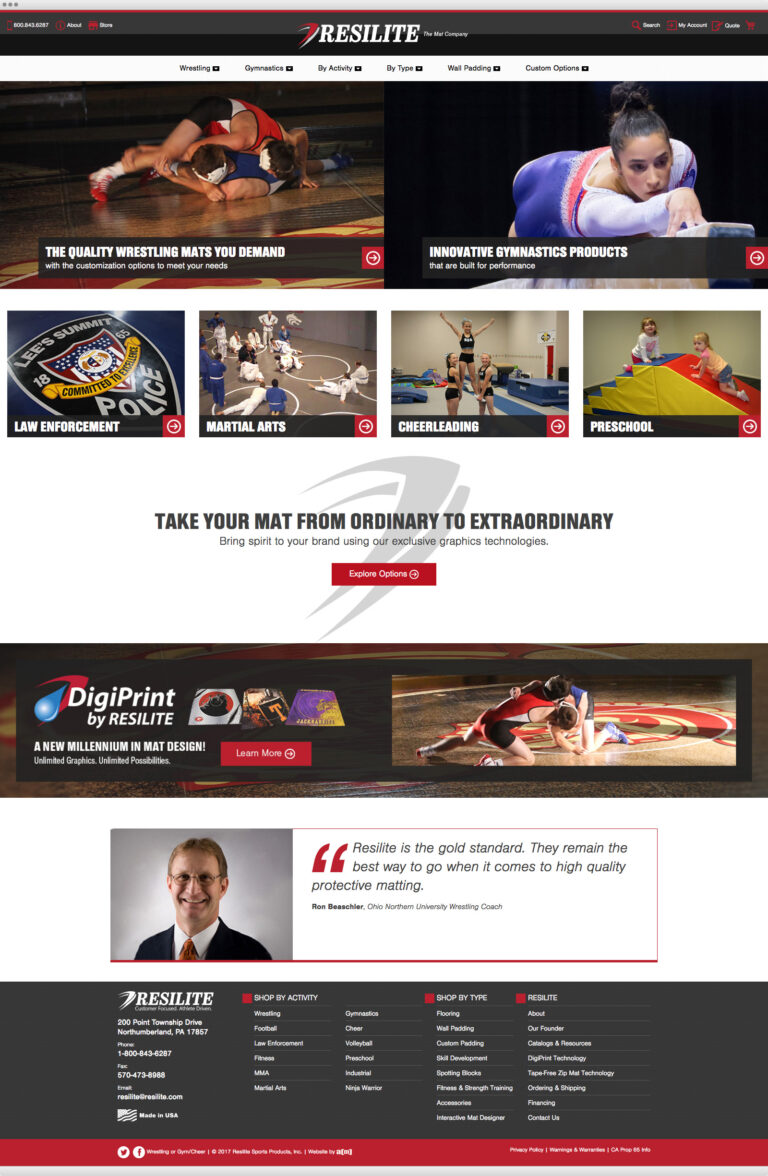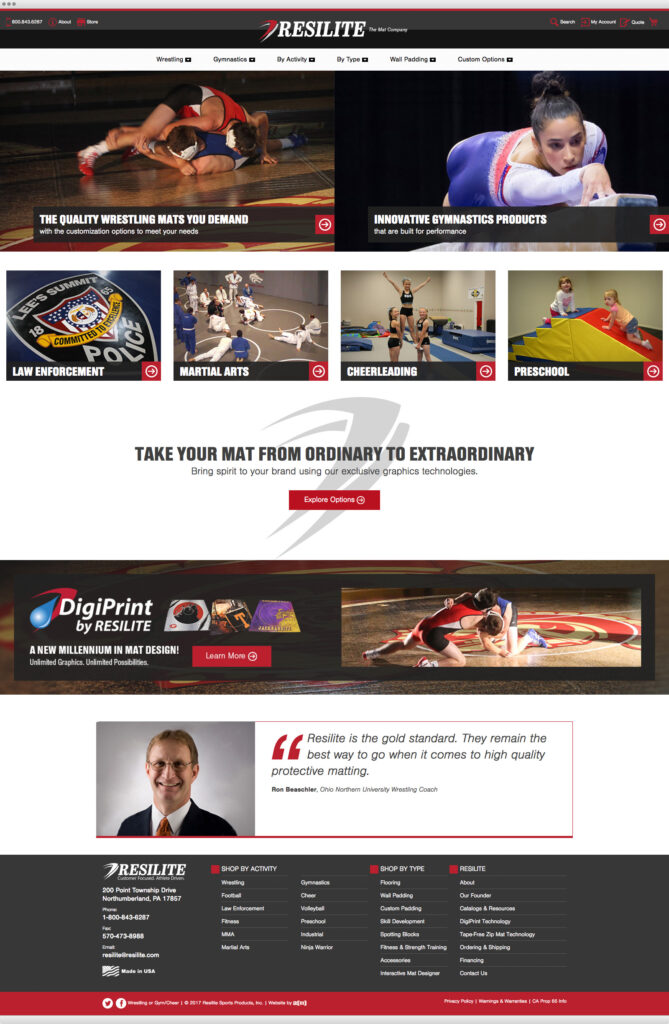 Travel Alliance Partners
---
---
Travel Alliance Partners (TAP) needed a robust content management system and website refresh to better present their diverse travel options to customers and make it easier for their tour operators and suppliers to update current offerings. The travel ecosystem is constantly changing, so TAP needed a solution that was easy to navigate on both the front- and back-end and that could be constantly iterated upon. The refreshed website was able to meet these needs while providing a more visually appealing and intuitive experience for customers looking to browse tours, cruises, and events. Once the site was developed, we also crafted, presented, and provided documentation on how to best use the new system so all tour operators were able to efficiently use it – regardless of their level of skill or experience in a CMS.
a(m) Services
Conversion rate optimization
CMS integration
Marketing strategy
Mobile optimization
Web design & development

University of Rochester
Medical Center
---
---
As the University of Rochester Medical Center created a new network for doctors and hospitals focused on accountable care for patients, they engaged us to design and build a forward-looking, responsive website. The result, ahpnetwork.com, cleanly describes the organization and its benefits for three distinct audiences while providing clear calls-to-action and a strong conversion strategy.
a(m) Services
Conversion rate optimization
Copywriting
Inbound marketing strategy
Marketing collateral
Marketing strategy
Responsive web design
Web development
"The a(m) team's responsiveness, nimble turnaround, depth of experience, and thoughtful approach was so helpful in informing and building our web presence."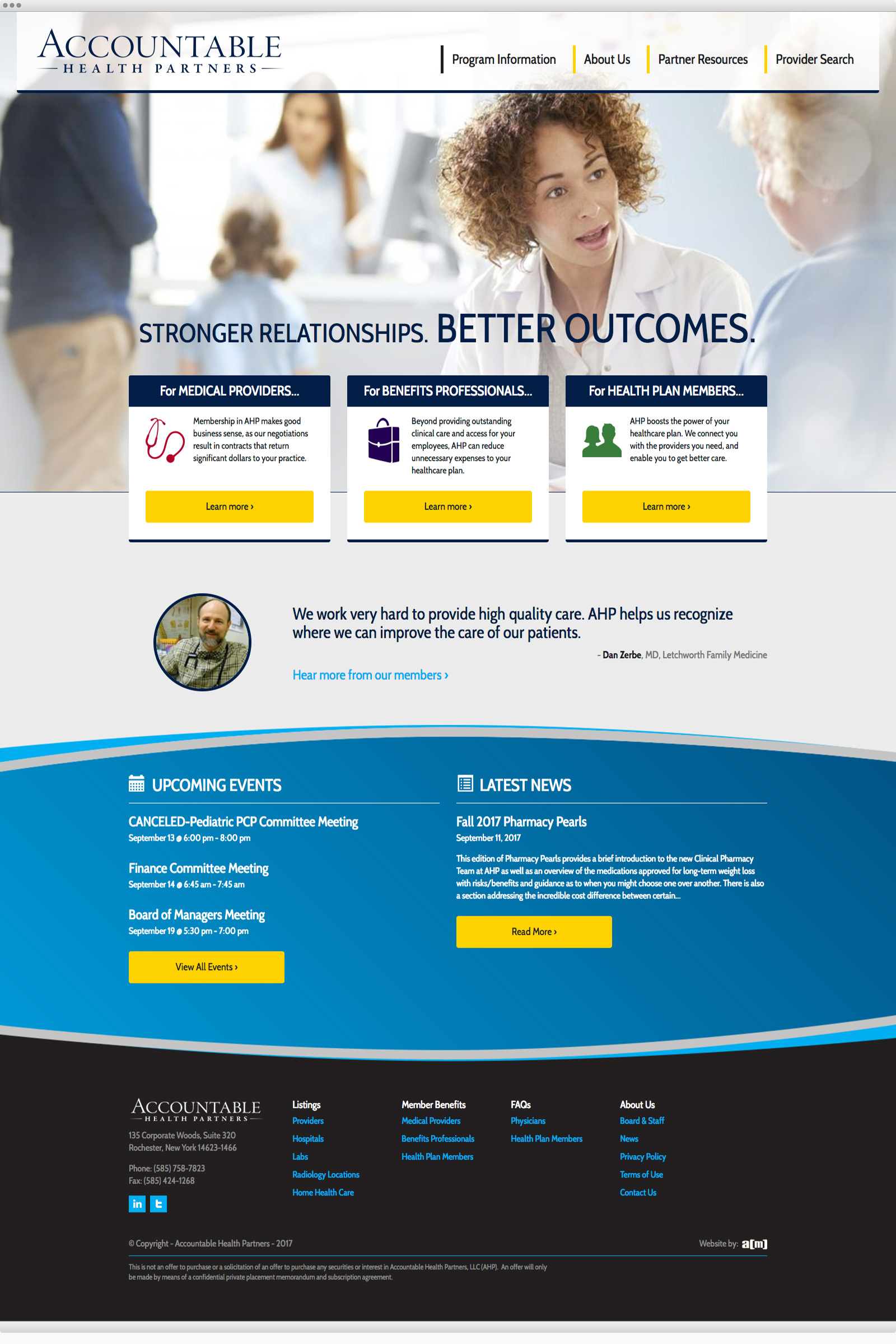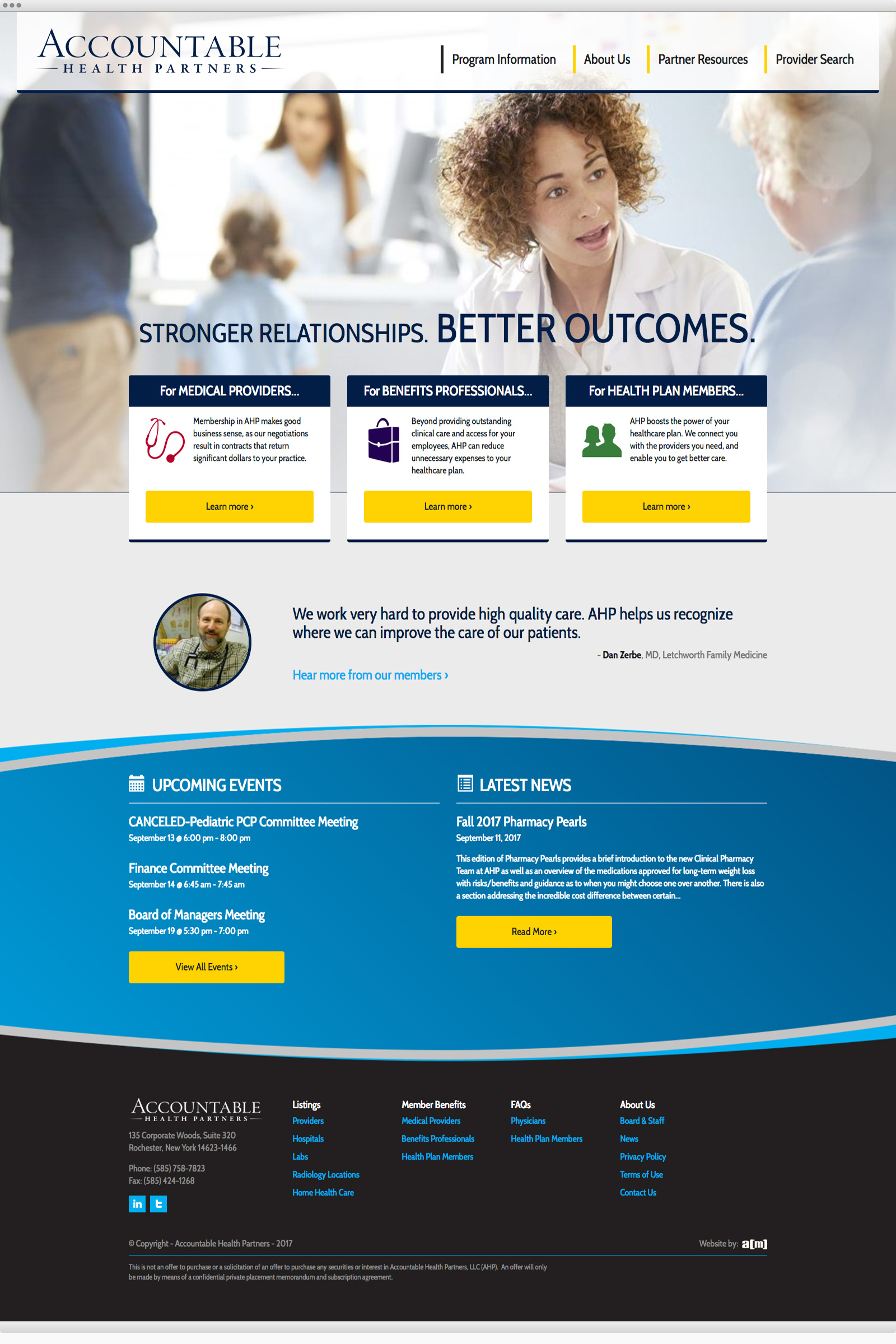 AstraPouch
---
---
We first partnered with AstraPouch for the introduction of their cutting-edge wine and spirit packaging. In the years since, their product line has grown, necessitating the development of sub-brands, a newly redesigned website, and more complicated marketing strategies along the way. The refreshed website presents the expanded product line and enables better browsing and a more streamlined ordering process—paving the way for future innovation and expanded offerings.
a(m) Services
Brand identity
Copywriting
Marketing collateral
Marketing strategy
Photography
Print advertising
Tradeshow experience
Web design & development
"Our new online store really exceeded our expectations. It does everything we need it to and more. The entire site gives us the "wow" factor we wanted for our online presence!"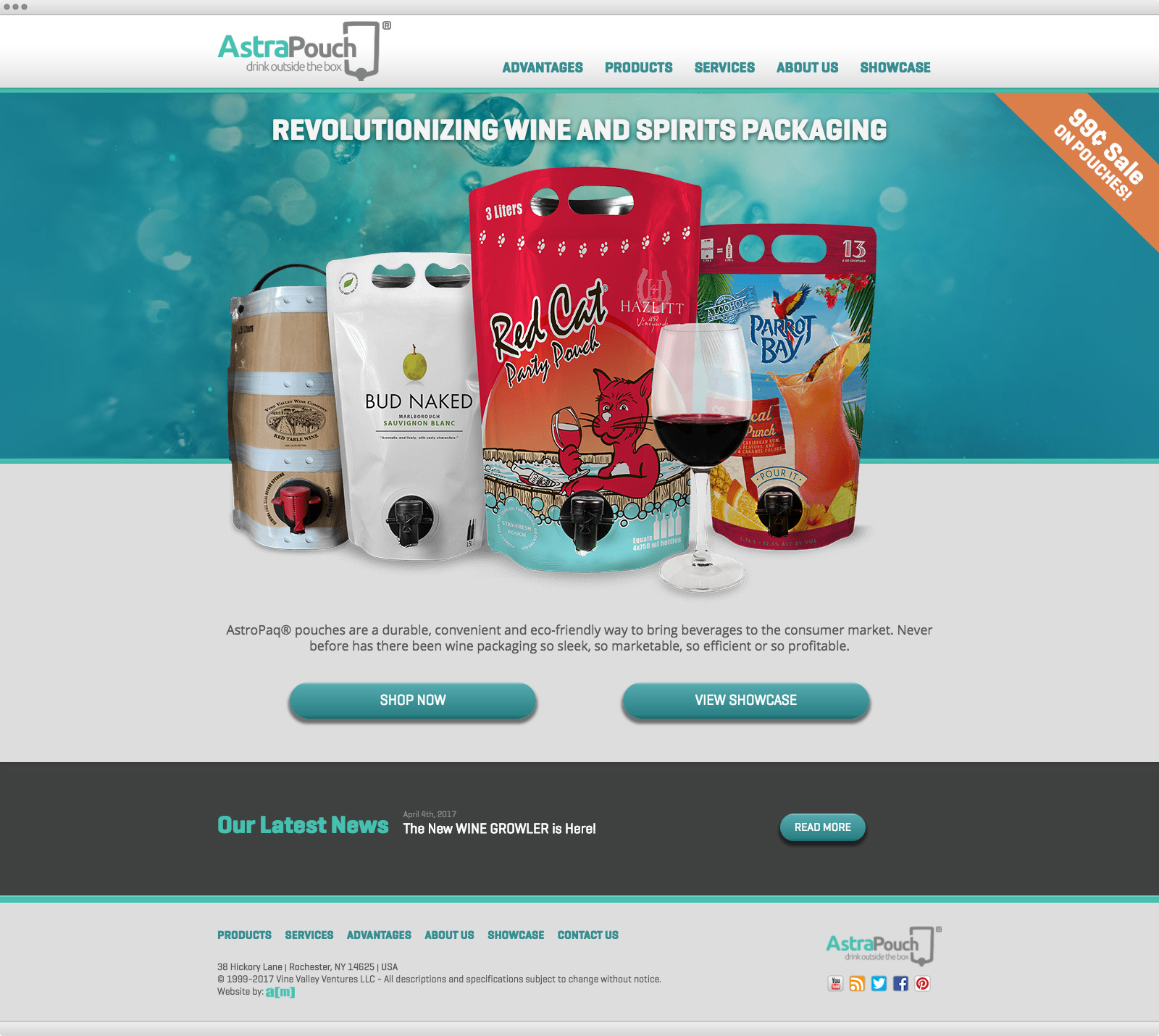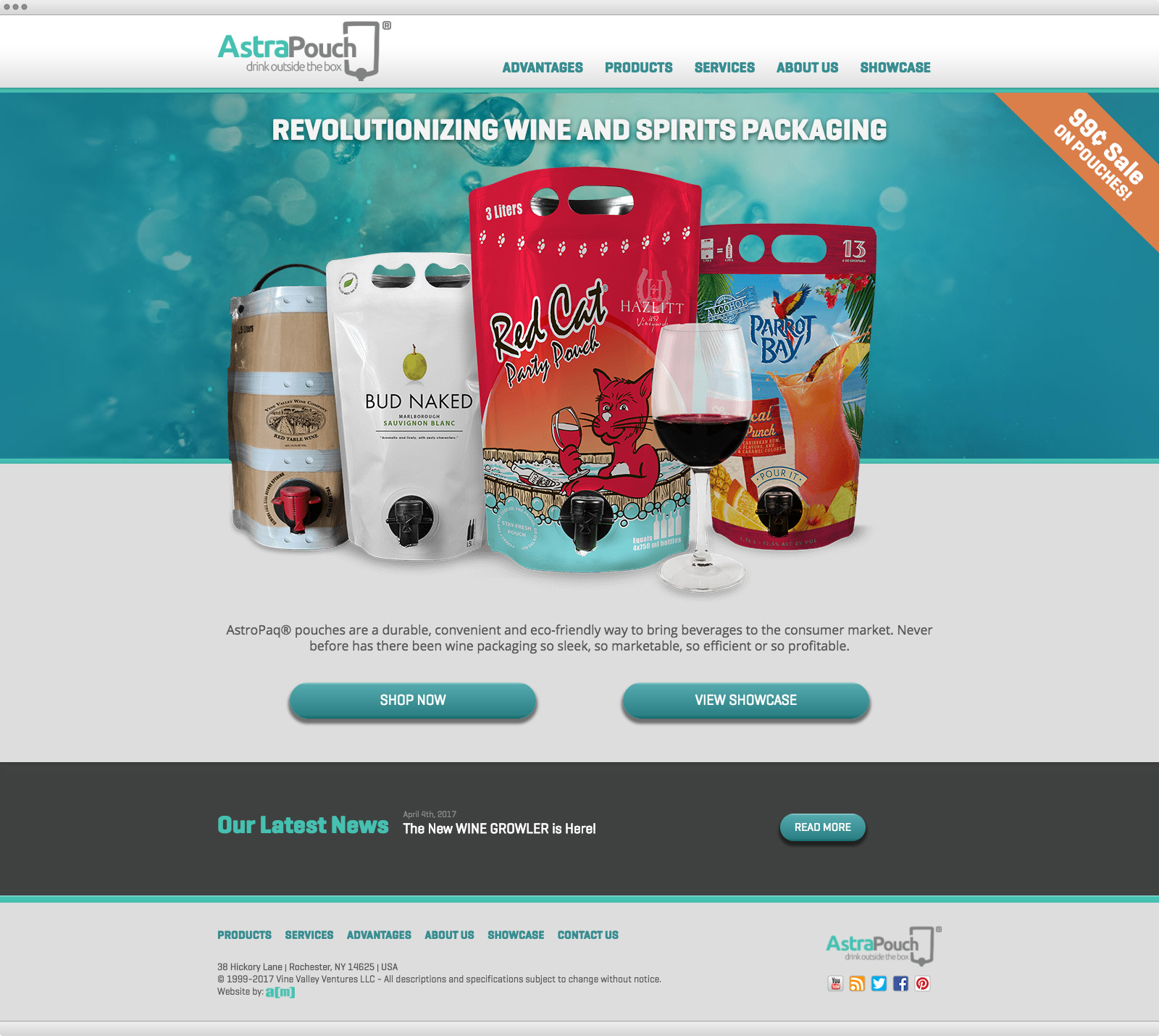 Cottone Auctions
---
---
Cottone Auctions is a premier auction house featuring national and international antiques, art, collectibles and more. They offer appraisals & consignments, and many options for placing live and online auction bids. Cottone engaged a(m) to redesign and redevelop its old site and, in so doing, to realize several improvements in a variety of areas.
Reworked navigation, based on user data, provides a more effortless experience. Better integration of front-end and back-end elements creates a seamless—and much improved—user experience, with consistent and expected behavior across all actions. Robust database integration and custom development provide improved sorting of lot items. Finally, just as important but unseen by the public, a completely custom content management system empowers Cottone Auctions with the ability to almost effortlessly manage users, bids, auctions, featured items, and more.
a(m) Services
Copywriting
Custom CMS
Inbound marketing
Marketing strategy
SEM/PPC
Search engine optimization
Web design & development
"We have worked with Accelerate Media for over 10 years! They have helped us develop our entire online presence. They have a great balance of design talent and technology expertise, and they're very responsive. They go above and beyond to take care of any issues that arise no matter the time or day."


Blitman & King

---
---
A law firm with offices in Rochester, Syracuse, Buffalo and New York City, Blitman & King is nationally recognized for providing cutting-edge advice in complicated areas of the law and for the bench strength of its attorneys. But its website didn't communicate that: it was dated, impersonal, dense, and hard to navigate. The new site brings the attorneys (and their strengths and personalities) to the forefront and presents a streamlined, more inviting and easy-to-navigate organization of the firm's wealth of resources.
a(m) Services
Copywriting
Marketing collateral
Marketing strategy
Print advertising
Search engine optimization
Web design & development
"Accelerate Media does a great job with the development and maintenance of our website. Highly recommended."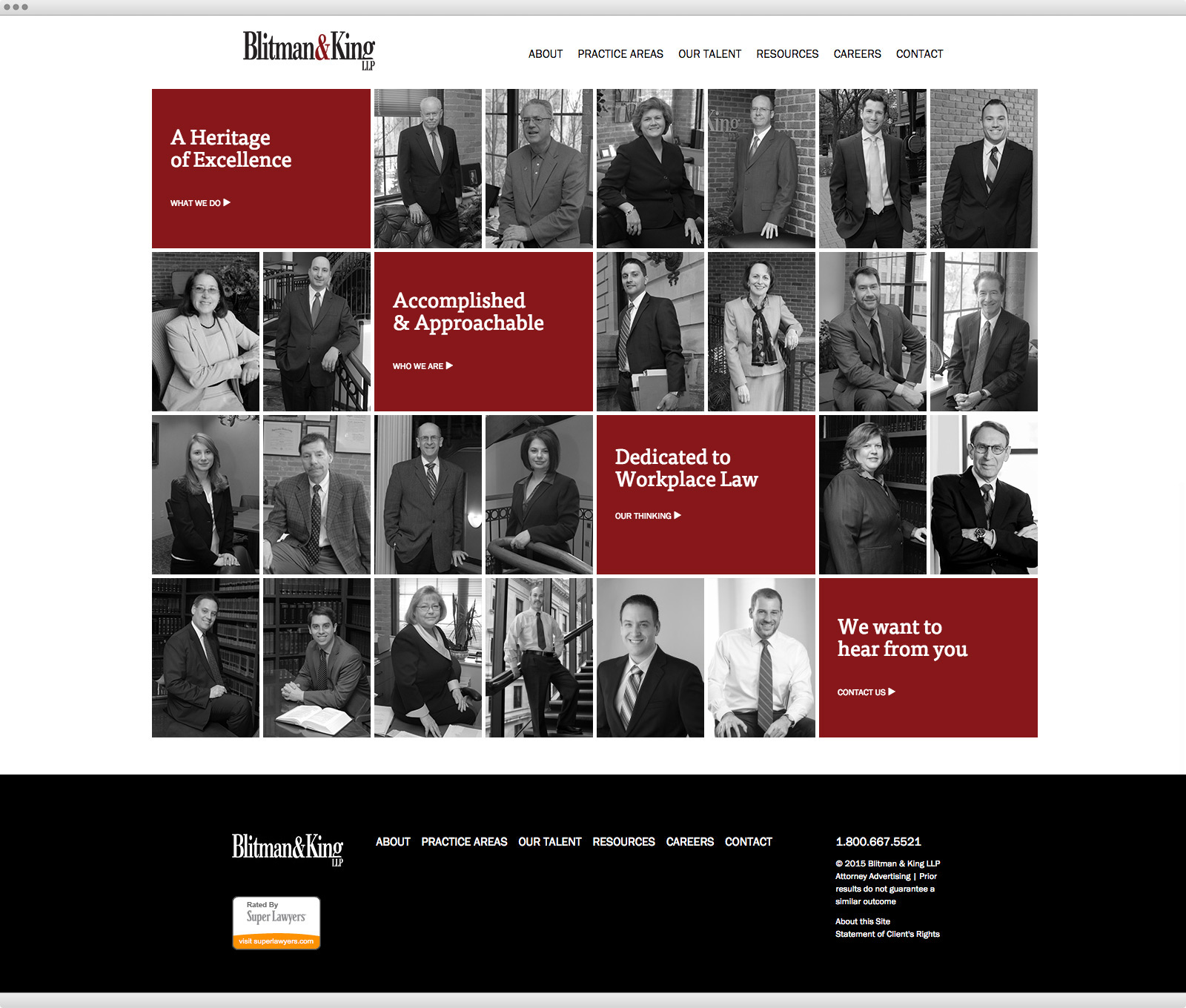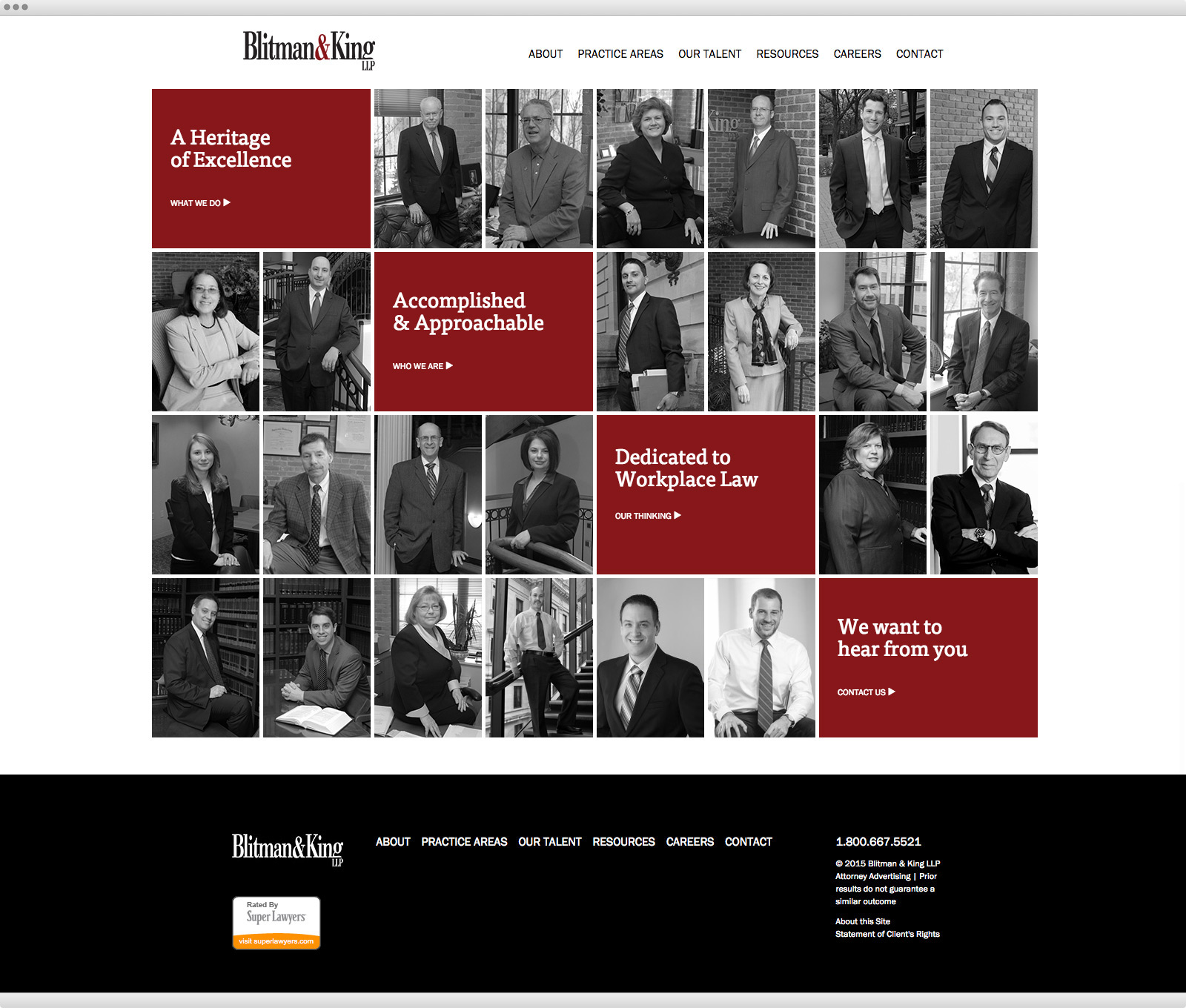 Science Take Out
---
---
Science Take-Out creates innovative, easy-to-use science activity kits for students. In the 5 years since its inception, the company went quickly from offering a few kits and fulfilling them as teachers placed orders to boasting a robust catalogue of 30+ kits and a high volume of orders. Now the company can boast a website that's as advanced as its products and accomplishes multiple objectives:
Presents a polished and professional look
Reorganizes product segmentation and presentation for increased usability
Provides a significantly improved e-commerce solution that encourages up-selling, cross-selling, and repeat purchases
Implements strategies for getting products into the hands of potential customers
a(m) Services
Copywriting
Custom CMS
Email marketing
Inbound marketing
Marketing strategy
Search engine optimization
Web design & development
"Accelerate Media brought together awesome creativity, organization, strategic thinking and value to create an extremely effective website for us!"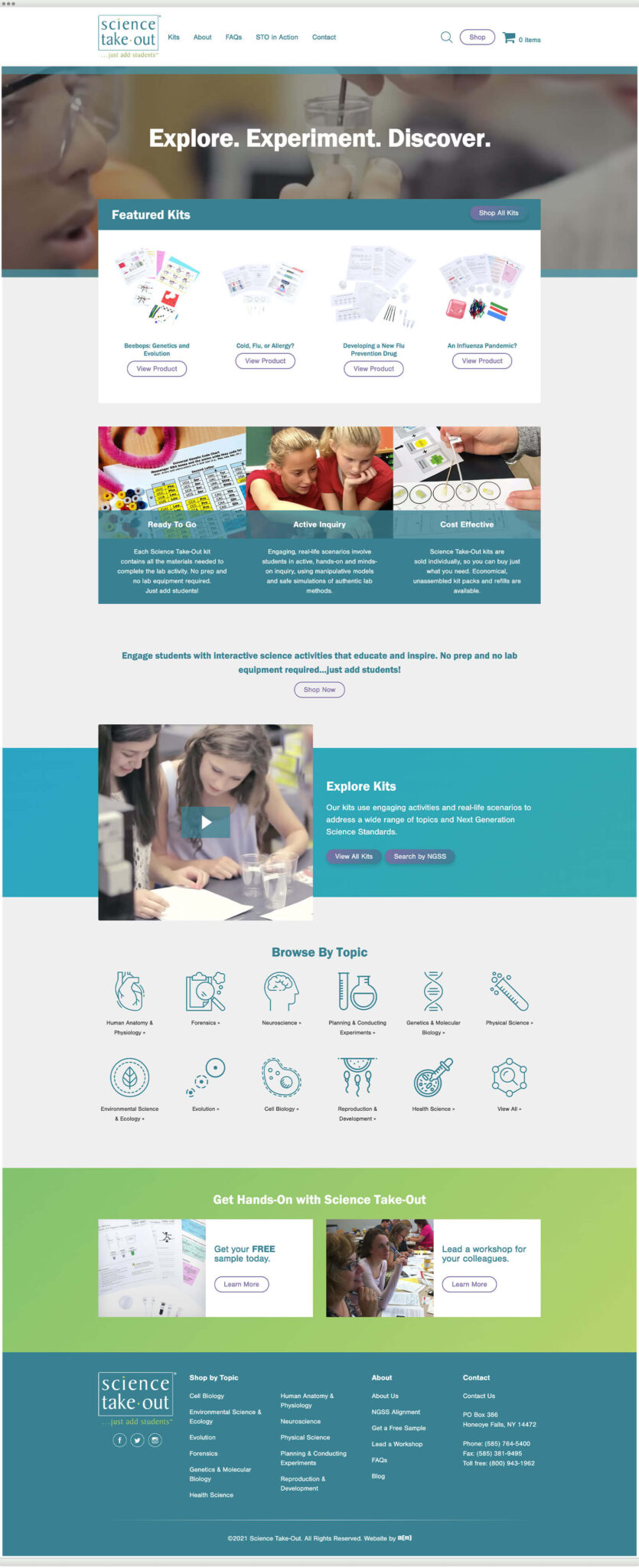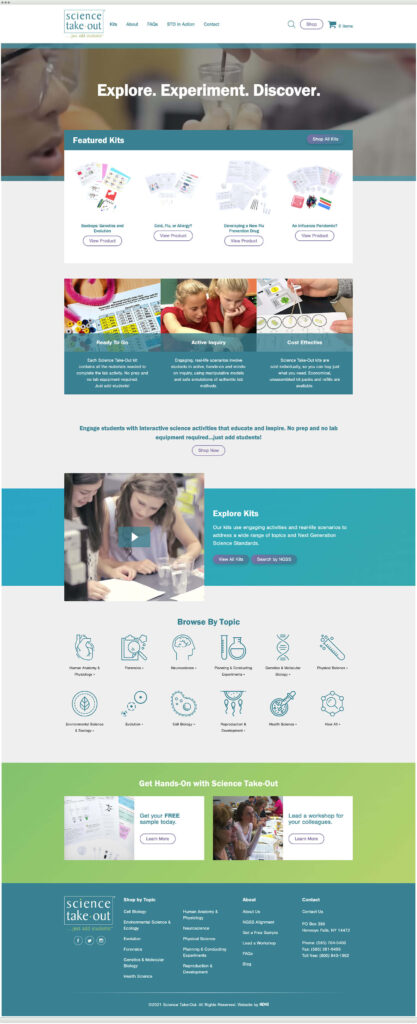 Draft Sharks
---
---
Draft Sharks is among the largest Fantasy Football advice sites in the nation. We first worked with them to develop an engaging website design, but over the years the relationship has grown. We are now their single source for development and marketing—and they have enjoyed a 20% increase in membership.
a(m) Services
Conversion optimization
Custom CMS
Email marketing
Inbound marketing
Marketing strategy
Mobile optimization
Print advertising
SEM
Search engine optimization
Web design & development
"Every company uses the standard cliché of "we want to partner with you and be a valuable part of your team, blah, blah, blah." In my 15 years of having a web-based business, Accelerate Media is the only company that has lived up to that promise."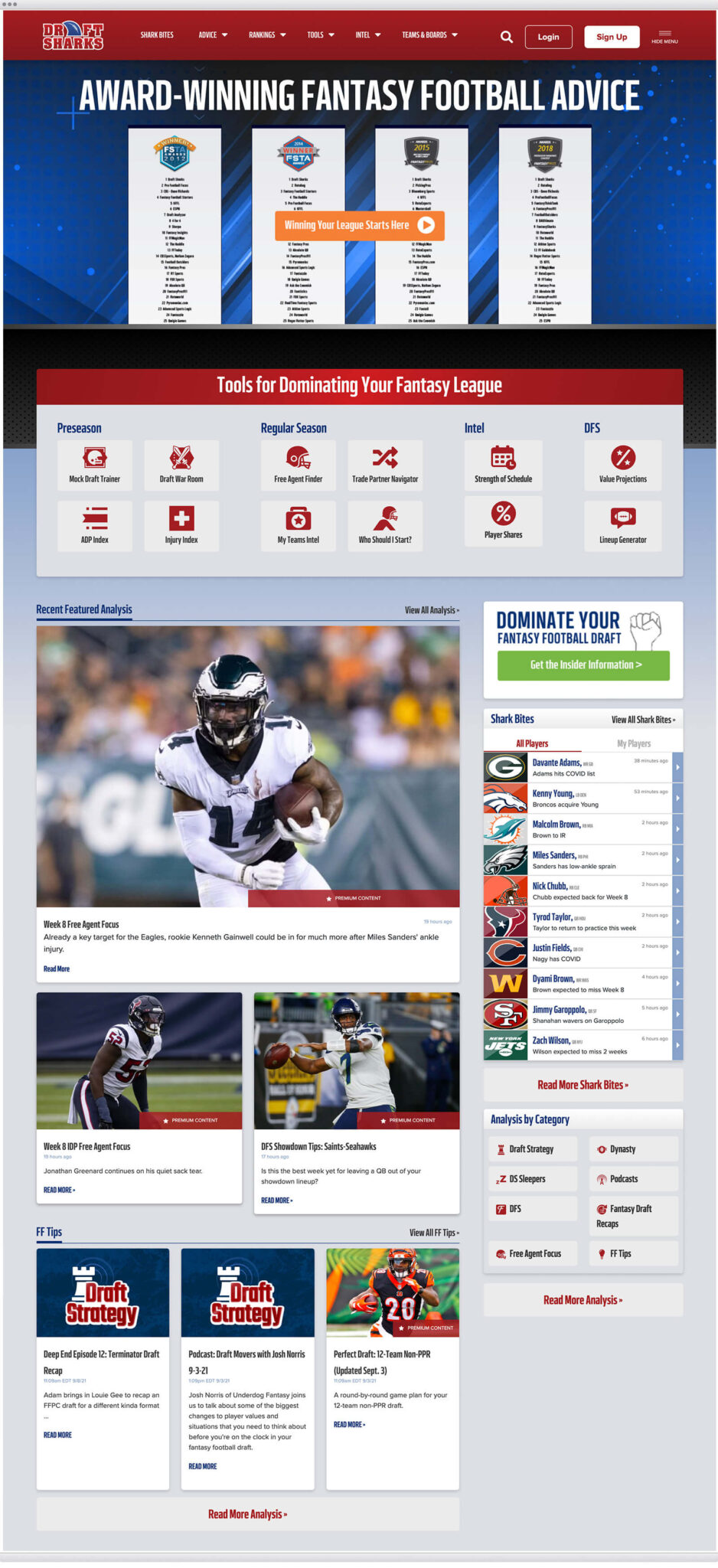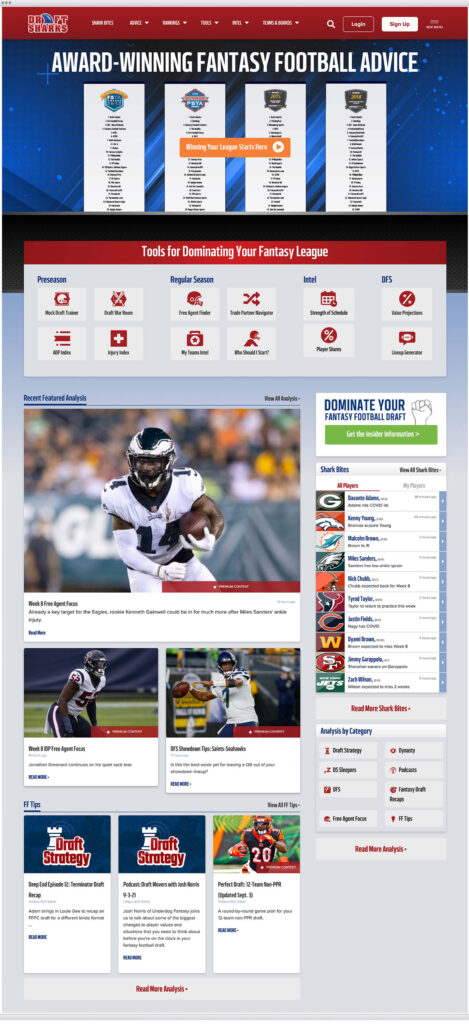 Buckingham Properties
---
---
Rochester's largest and most diverse real estate development and property management company needed a new look and a new website to coincide with their expansion. Our fresh design engages multiple audiences while providing an easy and engaging way for prospective clients to find investment opportunities and available properties.
a(m) Services
Brand identity
Business package
Marketing strategy
Mobile optimization
Search engine optimization
Web design & development
"Having worked with Accelerate Media for nearly a decade, I highly recommend them as a partner in digital marketing. I'm an in-house Marketing Department of one – with limited bandwidth. Having the Accelerate team on retainer as my trusted partner has continuously helped keep our web content fresh, our search placement high, and our lead generation flowing."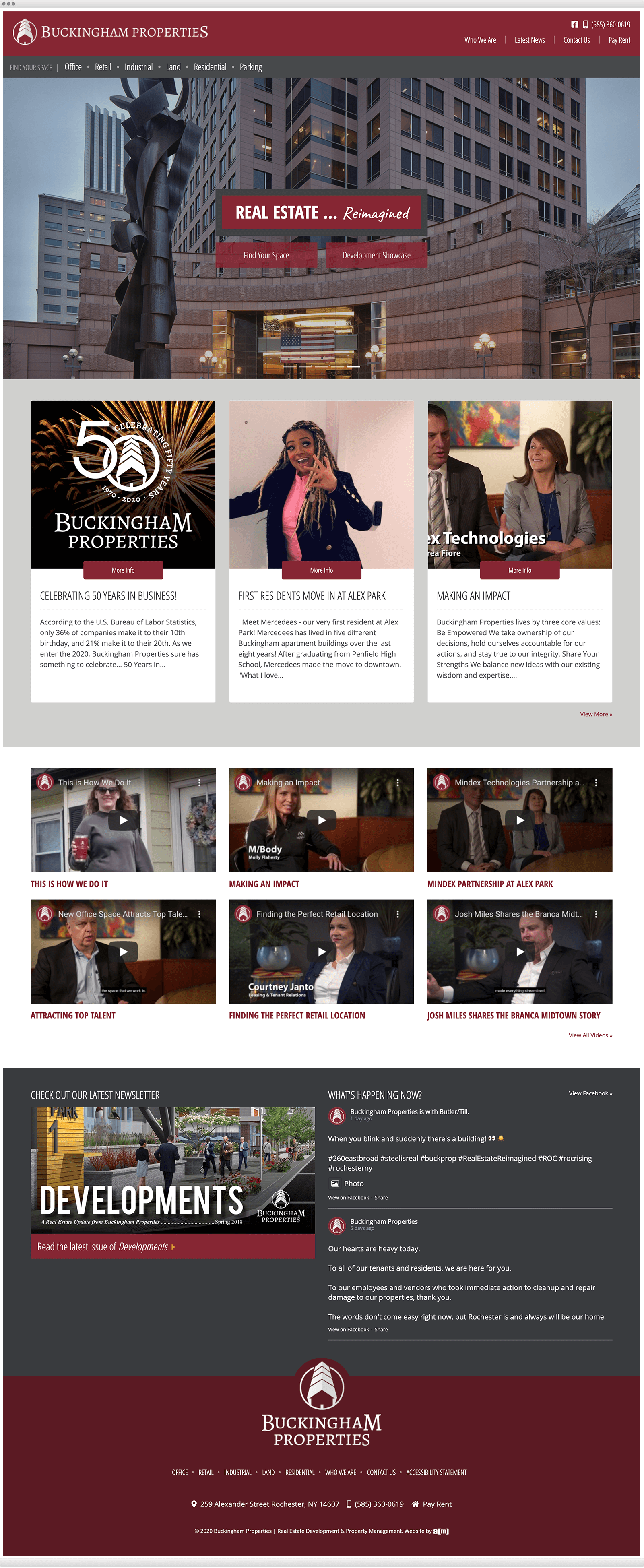 Monroe Tractor
---
---
Monroe Tractor is a leader in Agricultural and Construction equipment in upstate NY. They needed a new site that would better represent their brand, quickly and easily segment very different audiences, and sync live with an extensive inventory. Oh yeah, they also wanted to double traffic through SEO, mission accomplished.
a(m) Services
Business package
Conversion rate optimization
Custom CMS
Inbound marketing
Marketing strategy
Mobile optimization
Search engine optimization
Web design & development