There are lots of ways to position your company, your product, or your value. But which is best for you? The answer to that depends on what exactly it is you do. Thankfully, there are lots of resources out there to help marketers figure this out, including tools, workshops, webinars, and blog posts just like this one. Here at a(m), we went through theCLIKK's "Words that Sell" workshop to learn more about the subject and share our newfound knowledge with the masses. Let's dive in.
This (roughly) 4 hour bonanza of learning was a digital event hosted by Russ Henneberry, founder of Modern Publisher. Russ has trained and certified thousands of professionals through his coaching, courses, stage presentations, and book, Digital Marketing for Dummies. As you can probably imagine, Russ is extremely knowledgeable and great at lying out copywriting basics in an approachable and digestible way.
Quick aside, we set out to participate in this workshop because we love learning things we already know. What we mean by this is, we love approaching a topic we have a certain level of mastery in as a newbie, with bright eyes and fresh ideas. Just because we already have a sense of the end result doesn't mean we've explored every path on the journey of getting there. Walking new paths broadens horizons, and continual learning leads to continual innovation.
A new path we got the joy of walking with Russ was one through theCLIKK's Copy Builder tool. This tool is aimed at finding the specific, enticing aspects of your offer. But, before we dive into that, we'd first like to stop and discuss a key point Russ made early on in this workshop that we wholeheartedly agree with: offers versus products.
Offer vs. Product
All too often, we end up trying to label our product as our offer. Say you have a can of Monster energy drink to sell. If someone asks you, "What's your offer?" you may say, "This energy drink!"
If you say that, you'd be wrong.
In reality, your product ("This energy drink") is really just a small portion of your overall offer. What you're really offering depends on your audience. Maybe you're offering energy/pep. Maybe you're offering less grams of sugar than a competitor's drink. Maybe you're offering status/group belonging. No matter what it is that you're selling, the product is NEVER the full offer. You need to find the value that exists within your overall product or service and then market that value.
How do you find that value? Enter the Copy Builder tool.
Once you've figured out the meat of your message in the Subject stage, thinking about Background details (or the why's) helps naturally transition your copy into benefit statements and buying rationale. You're able to think about what the website visitor/potential buyer needs to know in order to get the big picture of the offerings.
theCLIKK's Copy Builder Tool
Now, this tool is extremely accessible and easy to use – it's literally just an Excel spreadsheet.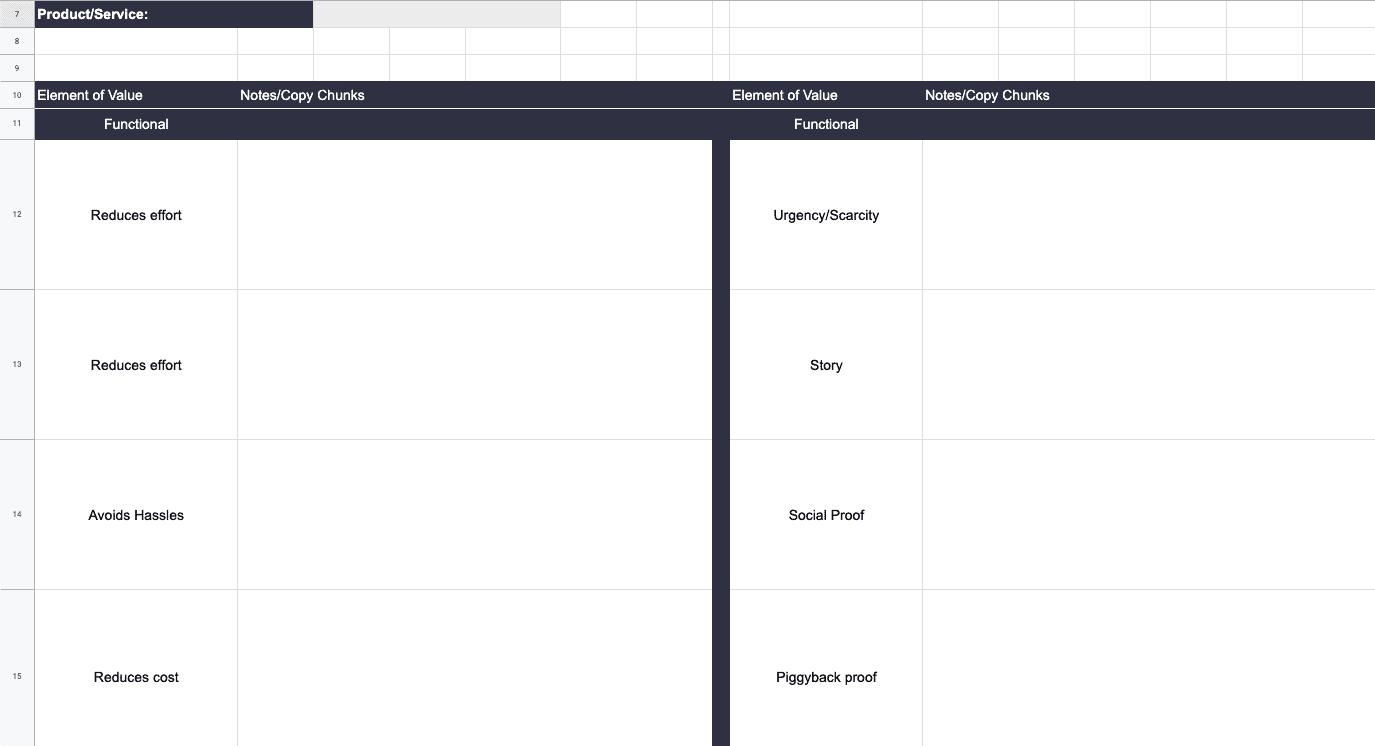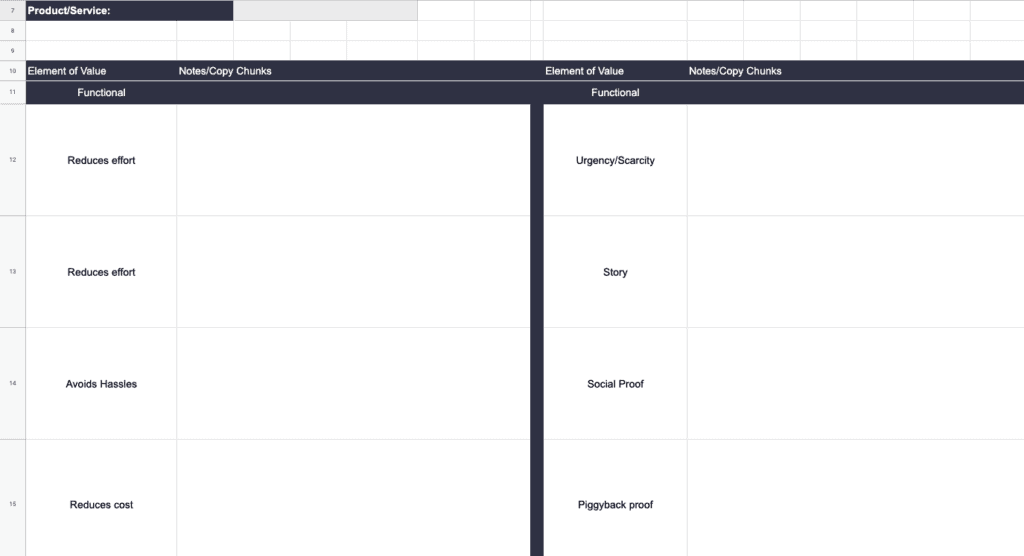 As can be seen, you start by defining your product or service – then the fun begins. The guide is broken down into several "elements of value," ranging from things like "functional" and "emotional" to more abstract values like "life-changing" and "social impact." Each of these high-level values is broken down further, getting as detailed as "reduces cost" and "offers authority."

By breaking down value elements into specific, granular pieces, you're better able to dissect your offer and write about it. This guide can be used to pull chunks of copy from competitors, your existing website, advertising materials – whatever it is that inspires you and pertains to each value element.

Now, the real question: why is this important?
The Point of the Copy Builder
The point is simple: the values are what people buy, not the product. Someone doesn't buy a Rolex just because it's a watch; people buy the Rolex because of the class/prestige/status that comes along with owning that particular brand of watch.
Simply put, people don't think of the product as a product, they think of what value that product will bring to their life.
Some products bring status, others motivation. Some products make your life easier and remove stress. Or perhaps even still, the product will bring fun. Or nostalgia. Or better health. No matter what it is, the product or service you're selling is just a part of the offer, the other part is the intangible element that drives the marketing and, ultimately, drives customers to close sales.
Once you have learned how to identify and articulate the strengths of what you're selling, prospects will buy. After all, your job as a marketer is to help customers make informed buying decisions – the more specifically you can sell them on a particular element of value, the better off you'll be.
---
Like what you've read so far? Get the full experience by taking the course yourself! Don't have the time? Contact us instead and we'll do the value discovery copywriting for you, employing the most applicable tips and tricks taught by theCLIKK.